Howdy!
A few months ago I got the random urge to compare writing to The Princess Bride. Because, let's be honest, it's two of the greatest things in life. I got some great suggestions in the comments and have since come up with some others. Have no idea what I'm talking about? Check out Part 1!
Here we go with Part 2.
1. When a new character pops out of nowhere.
Thanks, Lauren! 
2. Tackling a brand new scary plot…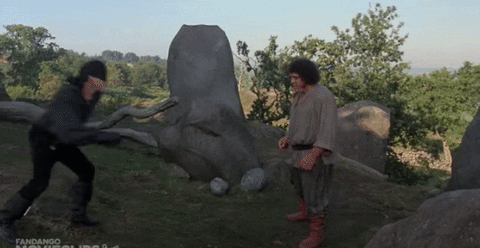 Hint: You're Westley
Thanks, E. Rawls!
3. When you go a little crazy with the Thesaurus 
4. If only your hero's BFF since childhood/the plucky comic relief did this…
5. When you go straight for the weirdly personal questions in order to get some background information on a character
6. When character cuts have to be made during editing and there's understandable resistance
7. Some writers don't actually enjoy killing off/torturing characters. So don't bring it up. 
8. When a reader guesses a plot twist you thought was clever
9. Trying to write a synopsis
10. Trying to write the most epic love story in the history of books
11. And if you don't fall into category 7 above, this is basically you
*cough – this is basically me – cough*
I could probably do this with just quotes from Miracle Max alone! Did I miss anything? Comment below!