In which I relate 100% to Frodo after destroying the ring.
I FINISHED WRITING THE MOUNTAIN BARON!!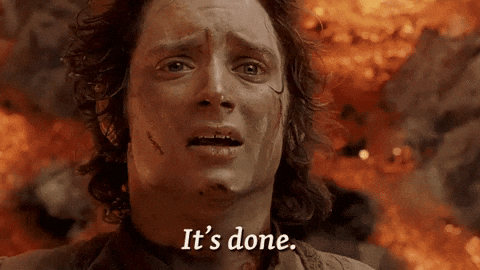 It took me just over four years. 2-3 different plot arcs were cut. At least 1 character didn't make it into the final version. And the grand total word count is 135,592.
This is the longest thing I have ever written and how did I have this many words of angst to write? lol!
It's taken so long, partially because I was doing a little thing called Physical Therapy school for 3/4 of those years. But I started it the end of my senior year of college after being inspired by a morning drive in the fog. I had numerous starts and stops along the way (see the plot arcs that were cut). The overall ending of the book never changed, but how I ended up getting there sure did. lol! But I think it came out waay better than how I originally envisioned.
I officially finished last Saturday and have been riding out the euphoria and exhaustion since. Seriously. I have done NO writing this week. Barely did some final edits for The Wolf Prince.
But I did watch all of Band of Brothers. Eat a lot of chocolate. Work an insane amount. And get lost several times in a Bucky/Sebastian Stan Pinterest hole. I have no regrets really.
And this means that all my old projects that I've been working on for YEARS are finally done and I can move on to new shiny things I've been dying to dig into for forever.
Here's a thing I made for it.
(Art cred from Pinterest – https://www.pinterest.com/pin/806496245747251549/)
The Mountain Baron turned his back on his country and Clan after they turned on him. Accused of a crime he didn't commit and cast out of his clan, he took to the mountains, building a kingdom of outcasts and outlaws. He's content to remain there until he receives word that the man he once called brother, a seer of Clan MacDuffy, has been taken by an old enemy. It will be the lord's last mistake. The Baron looks after his own. 
And now some snippets!
~
"But when they speak of the Mountain Baron they call you the MacDuffy. One day this Clan will be proud enough to call you family."
"I'll be laughing when that day comes then, because it won't be anytime soon."
~
"Haven't seen you in years and you're still trying to take care of me?" Sean asked.
Rhys came dangerously close to a smile. "You're the Seer. What did you think was going to happen?"
#brothers
~
"But why did they send you? Surely you must have wondered?"
"Think I don't know that they're using me?"
Rhys has zero time for anyone.
~
"Nice throw."
"Thanks."
"This isn't the part where you tell me you were aiming for his head, is it?"
"No, I meant to put it there."
"Oh, can't keep up with the sword practice, but you keep the knife throwing?"
~
"And I wouldn't try anything!"
Rhys quirked an eyebrow. "And who's going to stop us? You?"
The priest drew himself up, holding his staff at a martial angle. "Maybe I will."
Rhys fought a smile. I might end up liking him. 
~
"Don't know that I should condone the use of violence to do so though."
"Then maybe you should get rid of that staff."
The priest's lips pulled into a mock frown. "Versatile walking stick."
Rhys smothered a laugh. Damn it. I do like him.
~
"I'm not just letting you die for me."
"I'm getting you out, Sean. You have a family to go back to."
"And you're part of that family!"
Rhys grabbed Sean's arm and forced him on. "Not any more. You should have accepted that a long time ago."
---
And that's my big news for the week!
I'm still working along on the last tiny edits for The Wolf Prince. The cover designer is working away and I'm excited to see what she comes back to me with. And I've gotten some great feedback from betas on Worldjumpers!
What were some of your epic wins for the week?