Hello!
I'm beyond excited to have reached this point! Winter Spell releases in 2 days! I'm so looking forward to you finally being able to meet my book kids that are just trying to do their best in the middle of a magical winter.
Also Book 1, Adela's Curse is FREEEEEEE all week in celebration of the new release! Get it here!
And if you've followed this blog for a while (like when I was actually actively blogging), you'll know that I have a slight obsession with doing gif posts. So, now I give to you, Winter Spell as gifs!
First a synopsis before we get to the gifs:
A half-breed faery. A war-weary princess. A quest to free three kingdoms from the deadly winter spell. 
Constantly doubted by her ocean faery kindred, Tonya Freyr-dottir only wants to untangle the dormant ice and water magic within her. Then a strange attack makes her unleash a fierce winter on the land and sea. And she has no idea how to stop it.
Princess Diane serves faithfully at her brother's side, trying to restore their kingdom of Myrnius after the devastating Dark War. Now with brutal winter wreaking havoc, everything they have worked for might be lost to famine and destruction.
Desperate to help, Tonya travels to the far north to unlock her magic, aided by Diane, as well as two land faeries: Dorian, a reckless healer and August, a mischievous warrior. But the north brings fresh dangers, unearths old wounds, and offers more questions than answers.
With doom threatening human and faery alike, Tonya must find a way to trust her new friends and release her magic before all fall to the fury of winter's spell.
 Available for pre-order now! Releases on 4/23!
Pre-order link – https://www.amazon.com/dp/B086SFRMN8/
Claim your swag pack for pre-ordering! 
---
All gifs came from giphy!
Tonya is half ocean, and half ice faery. Not really belonging with her ocean fam, who's honestly a little snooty about the whole ice faery part of her.
Then something attacks her and unleashes the ice power she never knew she had and freezes the world. Whoops.
Literally everyone:
Tonya
Cross country road trip ft. Princess, angsty warrior boy, quiet healer boy that's definitely thinking about stabbing the angsty warrior boy.
There's also caribou
Me to some characters at some point in the story
Friendship is begrudgingly given
Everyone in the last 20% of the book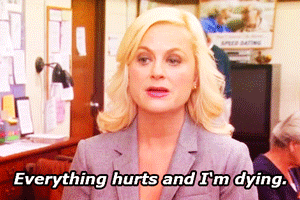 Tonya at some point probably:
The End.
---
So there you have it. You basically don't even need to read the book now. 😛
Also there's a giveaway for books and swag packs that you can enter HERE!
Check out of the rest of the blog tour!
Monday 4/20:
Abigail Leskey – book spotlight – makerofrunevests.tumblr.com
Rachael Ritchey – book review – rachaelritchey.com
MH Elrich – author interview – www.mhelrich.com
Tuesday 4/21:
Rachael Ritchey – author interview – rachaelritchey.com
E Paige Burkes – book spotlight – www.epaigeburks.com
Kelsey Bryant – book spotlight – https://kelseysnotebookblog.blogspot.com/
Claire B – Winter Spell as gifs – www.clairembanschbach.com
Wednesday 4/22:
E Rawls – book spotlight – https://rawlse.wordpress.com/
Hazel West – character interview/book spotlight – hazelwest.blogspot.com
MH Elrich – character interview – Diane – www.mhelrich.com
Claire B – meet the characters! – www.clairembanschbach.com
Thursday 4/23 – RELEASE DAY!
CB Cook – book spotlight – Theworldofthewriter.wordpress.com
Marlene Simonette – book spotlight – https://marlenesimonetteauthor.blogspot.com
Claire B – Release Day! – www.clairembanschbach.com
IG LIVE Q&A WITH HAZEL WEST – 7:30 PM CST on @cmbanschbach
Friday 4/24
Marlene Simonette – author interview – https://marlenesimonetteauthor.blogspot.com
Deborah O'Carroll – book review – https://thepagedreamer.wordpress.com/
Claire B – tour wrapup – www.clairembanschbach.com